Chugachmiut Nupuat Newsletter – Spring 2023 Edition - May 16, 2023
---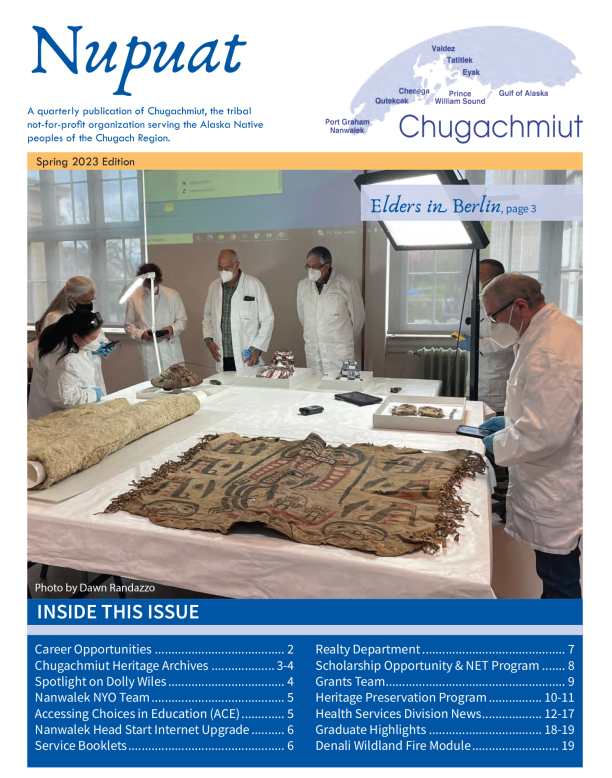 Chugachmiut's Nupuat Newsletter Spring Edition is available!
Topics in the Nupuat Newsletter – Spring Edition
Career Opportunities
Chugachmiut Heritage Archives
Spotlight on Dolly Wiles of Qutekcak Native Tribe
Nanwalek NYO Team
Accessing Choices in Education (ACE) Program Support
Nanwalek Head Start Internet Upgrade
Service Booklets
Realty Department
Scholarship Opportunity & NET Program
Grants Team
Heritage Preservation Program – Nanwalek Sugpiak Regalia Project
Health Services Division News
Graduate Highlights
Denali Wildland Fire Module Crew
📸About the Cover: Chugachmiut Elders and community members visited the Ethnological Museum of Berlin in Germany. The Elders and community members included William Smith of Valdez, Pamela Smith of Cordova, Eric Clock of Seward, Brandon Moonin of Tatitlek, Deborah McMullen of Port Graham, Vincent Evans of Nanwalek, and John Johnson and Tatianna Turner from Chugach Alaska Corporation. They were engaging with artifacts that were taken from the Chugachmiut communities in the late 19th century and documenting important cultural knowledge and stories.
Nupuat is a quarterly publication of Chugachmiut, the tribal not-for-profit organization serving the Alaska Native peoples of the Chugach Region. If you need to update your mailing address, please email us at media@chugachmiut.org.