Chugachmiut Nupuat Newsletter – Summer 2023 Edition - July 31, 2023
---
Chugachmiut's Nupuat Newsletter Summer Edition is available!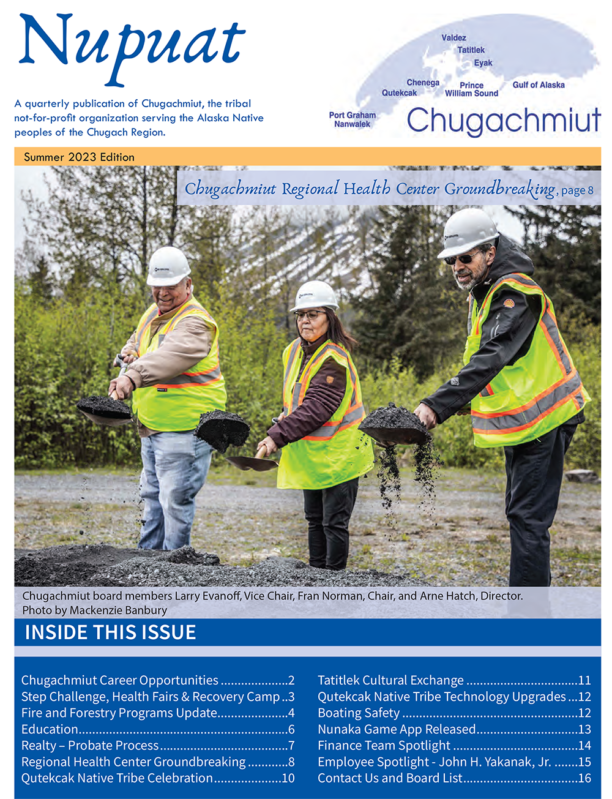 Topics in the Nupuat Newsletter – Summer Edition
Career Opportunities
Step Challenge
Health Fairs
Recovery Camp
Fire and Forestry Programs Update
Education
Realty – Probate Process
Chugachmiut Regional Health Center Groundbreaking
Qutekcak Native Tribe Celebration
Tatitlek Cultural Exchange
Qutekcak Native Tribe Technology Upgrades
Boating Safety
Nunaka Game App Released
Finance Team Spotlight
Employee Spotlight – John H. Yakanak, Jr.
📸About the Cover: Chugachmiut board members Larry Evanoff, Vice Chair, Fran Norman, Chair, and Arne Hatch, Director break ground for the Chugachmiut Regional Health Center on June 3 in Qutekcak (Seward). Chugachmiut has operated the North Star Health Clinic since 1987 in Seward but, by January 2025, the 19,475 square-foot Chugachmiut Regional Health Clinic will be constructed and operating. The Center will serve as Chugachmiut's regional medical hub providing medical, dental, and behavioral health services for Alaskans in medically underserved areas within our region. Photo by Mackenzie Banbury.
Nupuat is a quarterly publication of Chugachmiut, the tribal not-for-profit organization serving the Alaska Native peoples of the Chugach Region. If you need to update your mailing address, please email us at media@chugachmiut.org.