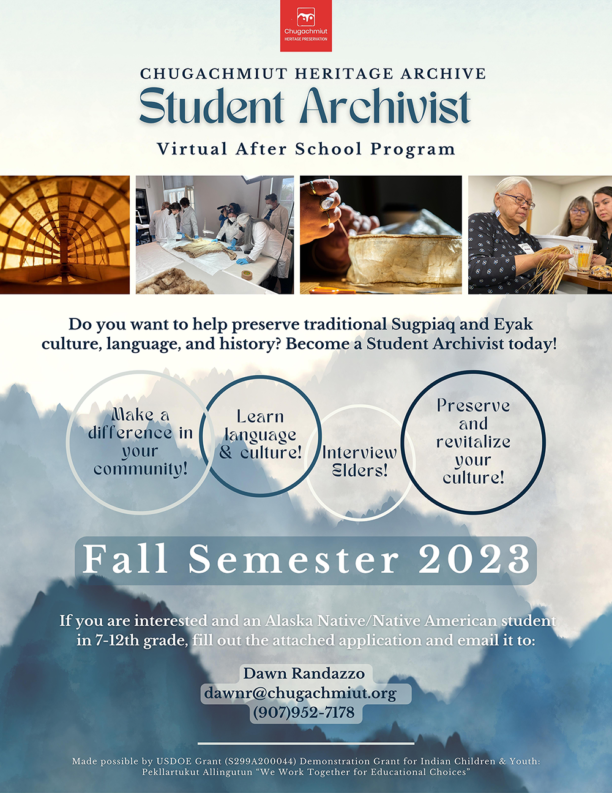 Cama'i! Chugachmiut Heritage Preservation Archive will be hosting a virtual "Student Archivist" after-school program starting in October.
Students will be able to attend weekly interactive zoom classes where we will discuss what it means to be a community archivist, the importance of Indigenous voices in the historical record, and how archival work can be used to revitalize and preserve culture in our communities. On top of that, the students will conduct a semester cultural research project where they will utilize the resources available on the Chugachmiut Archive website Chugachmiut Heritage System, and interview regional Elders to gather additional traditional knowledge. Upon completion, their projects will be featured on the archive website!
There is no cost to participate, and we have iPad's available for all students that require one! Students must be in grades 7-12, reside within the Chugach region, are of Alaska Native/Native American/Pacific Islander descent, and have access to the internet from 3:30-4:30 pm every Wednesday! If you are interested, please reach out to Dawn Randazzo to apply at dawnr@chugachmiut.org or (907)334-0128.
Download the application and apply at: Chugachmiut ACE Application 2023